Want to rank on 1st page of google. Right?
If you have clicked through this article, you must be a website owner or an SEO specialist who wants to see his/her website on top of google search results. MAYBE my guess is wrong, but don't worry, Whatever the reason is, I will do true justice to my work and to your valuable time.
Let me give you a quick overview of this article or so that you can set the right expectations and easily navigate or look for the things, you are looking in this article.
Here is mindmap below for On page optimization
Table of content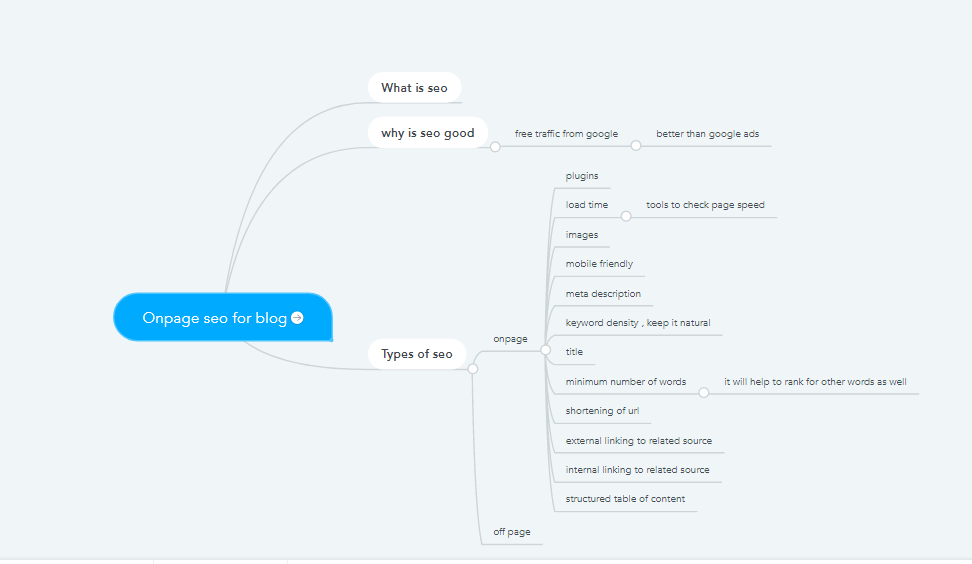 So before coming to "how to"? First we have look at "What to"? Sorry, if I confused anyone.
SEO stands for " Search Engine optimisation". It is the practice to increase the quality and quantity of traffic through organic search results.
Organic Traffic: People coming to your website while searching for a keyword on the search engine.( No ADS)
Quality of Traffic: If you got high CTR, what good is that, if you have a low Conversion rate. #qualitymatters.
Quantity of Traffic: If you hooked up the right people, increasing the quantity seems to be good option.
Want to learn more on " What is SEO?"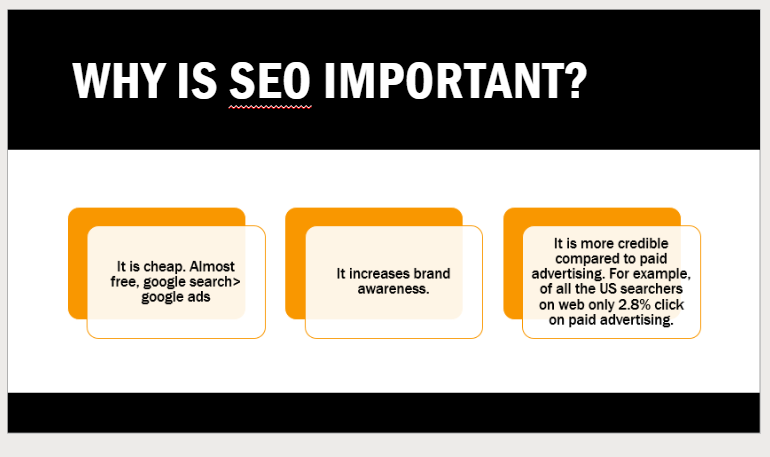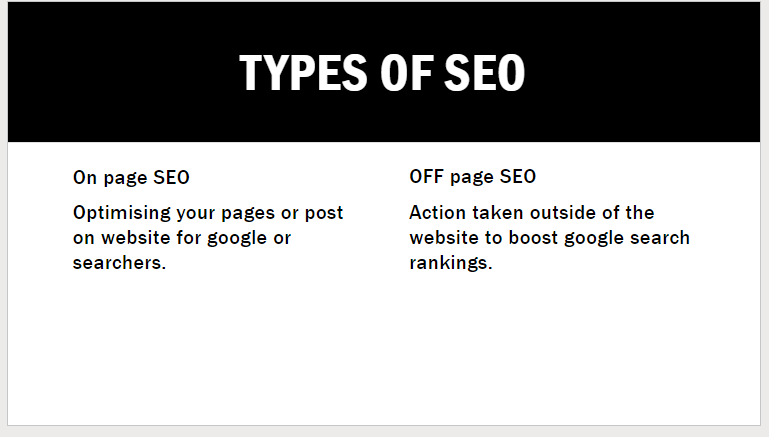 So now comes " How to do do On page optimization of a website"
There are two things as an SEO specialist to optimise a page or post for google bots or google searcher.
Technical aspect: More or fewer background operations on our website to make search engine crawlers happy( Not to forget, they are further working to please google user.)
User experience: Doing all sorts of things to enhance user experience.
Not a fan of reading? No issues, just watch the video down below on page optimization guide.
Technical aspects
1: Title:
Writing a title without spending some time, isn't helping you in ranking your article.
Here is what you should do. Firstly clearly define your focus keyword.
Here is what my focus keyword was for this article.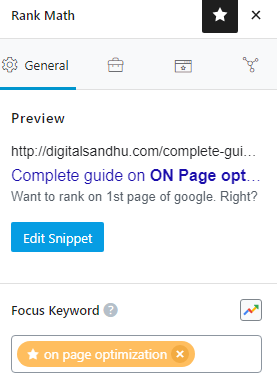 Once defined, you're on-page SEO optimization plugins( Rank math or Yoast ) cultivates suggestions for your blog or articles related to those focus keyword.
Now entering the focus keyword naturally into your topic will send a clear indication to search engine that "what this blog is all about".
Just look at this article " Title" , have you found the focus keyword?
Still have any doubt look at the snippet below.
Having said that, just search for any term( whatever you feel like) and you will observe the keyword you entered in the search box in all the titles of search engine top results.
Need help with hosting?
Related Post: Best website hosting providers.
Meta Description:
Meta description is short description of your page usually appear in the search results.
It tells the users and search engines what the page is all about.
Here is what you have to follow while adding a meta description.
Not more than 160 characters in length.
Using focus keyword( mostly at the start)
Cultivates urgency and compels a user to click.
Communicate better and give a brief overview of the page.
Mobile friendly
As more and more users are shifting towards mobile devices, google also shifting its focus towards the betterment of user mobile experience.
Here is what google has mentioned in his July 2020 mobile friendly update.
They have provide tips to improve onpage optimization of the website.
Load time
Lets see facts first.
47% of users expect load speed less than 2secs.
40% of people abandon a website if they take more than 3sec to load.
1-sec delay in website load results in a 7% reduction in conversion.
It plays a prominent role in affecting user experience or pleasing search engine bots.
So now, you probably got an idea of the importance of load time.
Here are steps down below to improve load speed of any page in your site.
WordPress plugins to reduce load time
1: Smush
Usually, images play a significant role in increasing load time. So this plugin will compress all the images in 1 go that are live on your site.
2: W3 total cache
One of the useful plugin to store cache memory, hence improving user experience and decreasing load time.
Tools to check load time
Number of words and keyword density
Have you heard the line" the bigger the better".
Let me twist it a bit " The longer it is, the better it is.
The longer you have written an article on a particular topic, the more likely are the chances of that article to rank higher on google search results.
Let me give you a clear math
For example
Number of words= less
Less number of keywords to rank for on google— less number of impressions from google search results as it will appear less often— Less number of traffic
On the other hand: longer the article– more the impressions on search results– more the traffics from organic results.
Keyword density= number of times your focus keyword is mentioned/ total number of words used in the article
Most seo experts recommends ideal keyword density to 1-2%
Some pro tips for keyword density:
Use keyword at right place.
Use synonyms.
Write for the people not for search engines.
However, this doesn't mean that we start adding unnecessary crab, just for the sake of making it longer.
As the years passing, the complexity of google algorithms is also increasing. Humanizing thinking of google crawlers is also on a steep rise. There AI has started thinking of user experience, their likes and dislikes, resulting in better judgements.
So don't just try to fool the google, he is way ahead of what we think it is.
Images
Let me tell you search engine bots can't see images like we see.
They only read HTML text.
Its important for us to feed them.
Add an ALT TEXT to all your images, to let crawlers know, what that image is all about.
Linking to related source
Internal linking: Link from one page to another within the same website.
Just link to a relevant source when it is necessary. Keep the readers in mind.
External linking: Linking from one page of your website to a page of any other website. Again, keep it relevant and consumable for readers.
DO NOT TRY THIS AT YOUR HOME
Your article is about fitness and you have linked to a page which tells about pets.
User experience
The sole purpose of this section is to engage your reader, to make your copy presentable and engaging for your readers.
To make them stick to their device screens.
This results in:
Reduced bounce rate.
Increased session duration.
Increased awareness and trust for your brand.
How to make your content visually appealing?
First lets see what google see's and thinks about user experience and page experience.
Just click on button below to see a article published by google for page experience.
Additional Pro tips:
Quality images.
Short paragraphs.
Subheadings.
Quotes.
Lists.
All types of formatting options.
Conclusion
Both technical aspects and user experience go hand in hand with a clear intention to please users and search engines. So, ignoring one is not a good option.
Here were some tips to improve your on-page optimization SEO metrics. Hope the information provided in the article is informative and valuable to you guys.
Subscribe to my newsletter for free blog updates regarding digital marketing.