I know while running or creating a Google ad campaign, you may stumble upon these questions such as " What's one of the main benefits of using ad extensions?" or "why to use the ad extension in the first place?"
Don't worry, after reading this you will get all your answers.
So before starting this. Just imagine this scenario.
Suppose there is no internet today, no Google ads are there. The only way to showcase your ads is through the traditional way of marketing. Ok.
So now you thought of printing your ad in one of the reputed magazines. So now tell me what will be your mindset at the given moment. You probably would want your ad to be as big as possible that too at a reasonable price. Right?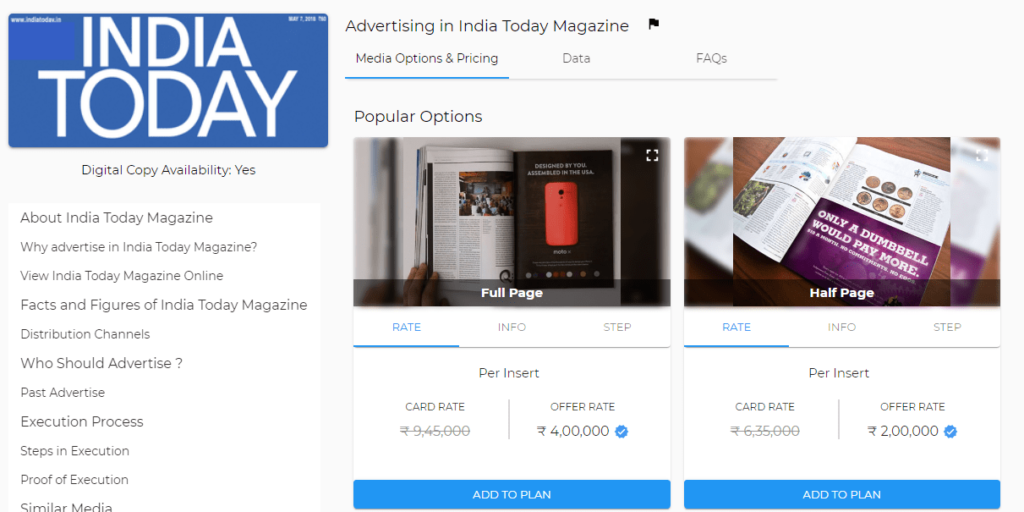 Just see how much it cost. You probably would be thinking about how all this is related to ad extensions. Marketing is all about attention. The bigger your ad, the better the conversion, the higher the cost.
So adding an ad extension makes your ad bigger and descriptive, resulting in better conversion. All this at the same pricing. I don't think, there is a reason to not use ads extensions.
This is just one way of looking at things. There are other advantages of using ad extensions.
But before starting, firstly, let's see what is ad extension and its types.
You can skip this section if you already know about this.
Related blogs: Google ads not works but shows eligible?
What are Google ads Extensions?
Ad extension as the name suggests is an additional form of information that you can add to your Google ad copy to make it bigger, descriptive and more appealing to the viewers. Ad extension is usually chosen based on your campaign goals and objective. It usually includes additional links, phone number, services, features, reviews etc.
Having said that, ad extension is broadly classified into two types.
Automated ad extension: This ad extension is automatically generated by Google A. I based on his understanding from previous ad history to provide you with better results. This type only works on laptop and desktop. Learn More about this.
On the other hand, as the name depicts, manual ad extension is the one that you create yourself. It enables you to add your business details and features by yourself. Hence it works better than the automated one because you can customize your ad copy according to your objective or goals.
They are no one better that understands your business except you.
BUT.BUT.BUT
It is not done yet. There are further ad extension types that for you is more important to know.
Types of Google ad extensions
Call extensions
Call extension enables you to add a phone number on your ad copy, hence, enabling the customers to directly call your business. It only works on devices that support calling functionality. For example mobile phones.
Google sometimes automatically generates a phone number on your ad if your website consists of a phone number and it's aligned to your goals. Moreover, you can also create call-only ads if your business serves better on calls.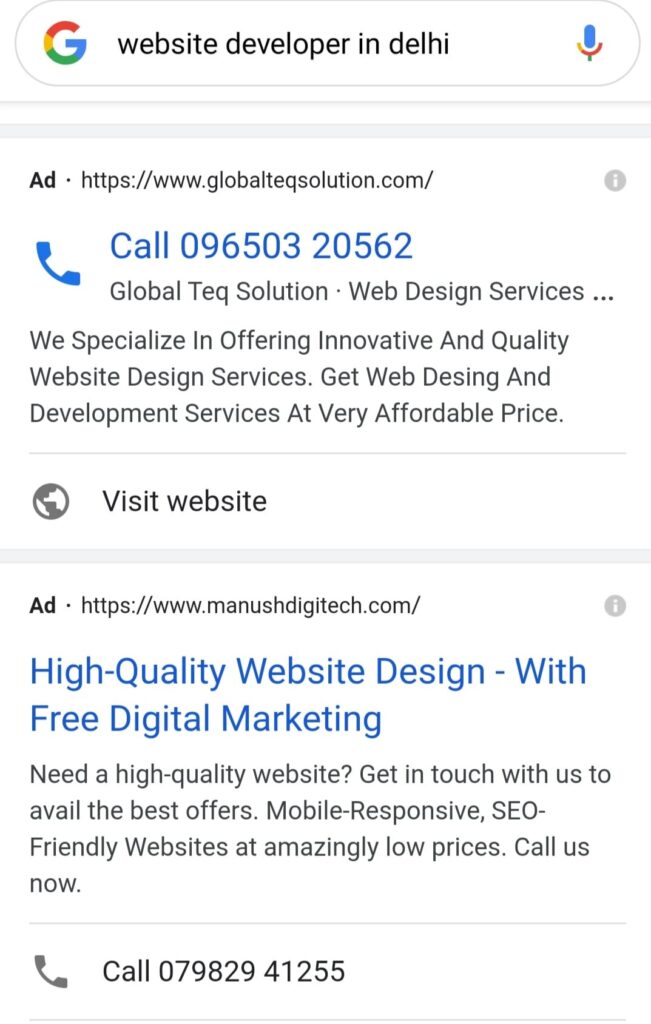 So now you might be thinking how the hell Google will track the calls or conversions if someone gave the call by clicking on the ad copy.
You can count calls as conversions by simply turning on call reporting in your account. Call reporting uses Google forwarding numbers to give you detailed conversion information.
Note:
Do not try to add your phone number in ad text instead use call extension as it may result in ad disapproval.
Use the same numbers in your ad copy as mentioned on your website.
Site link extensions
Site link extensions enable you to enter an extra set of links to your ad copy. Additional links are usually specific pages on the websites.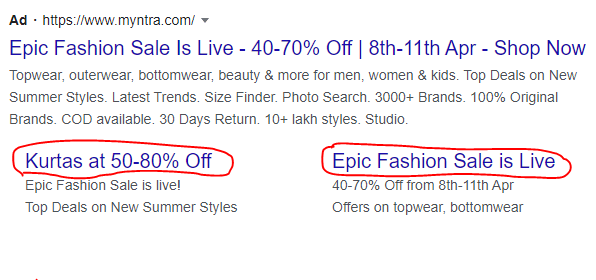 It enables you to track specific pages on your website. Providing you with a better understanding of the Google ad data.
Must read: Complete Guide to Onpage seo.
Callout extensions
Call out extension enables you to add additional descriptive text in your ad copy. There are usually features, services offered by a business.
It helps the advertisers to use those extra spacing to depict his business from a somewhat broader perspective.
Other important ad extensions
All these ad extensions are curated as per business goals or requirements. Knowing your business objective and using these ad extensions accordingly can provide a personalized experience to your customers.
I hope, now you got somewhat idea about the Google ads extensions. But now comes the point for which you all are here.
What's one of the main benefits of using ad extensions?
By providing an extra set of information, ad extensions provide your customers with an opportunity for a call to action to your business. With extra effective use of space for your ad copy, it gives more authority and prominence to your campaign ad.
More clicks: By providing an extra set of information regarding your product or services, enables searchers a better understanding of your offering in a short time span, hence providing your more clicks compared to other competitors.
Higher CTR( click-through rate): Further elaborating on the previous point, with more information, comes more authority and visibility. Hence, it results in a better click-through rate for your ad copy. On average we have found that there is a 10-15% CTR uplift* from implementing a new ad extension.
Higher conversions: Let me explain this with an example. Suppose you search for the keyword " WordPress website designer near me ". So there are few ads that show up on Google search results.
Advertiser 1:' In his ad copy he mentioned his service, features and offers related to WordPress website designing.
Advertiser 2: In his ad copy not only he mentioned his services, features and offers but he added his additional links, pricing, USP, location and reviews to provide detailed information about his services.
Who do you think will get the better conversions? Advertisers 2 right? This is because, in the advertiser 2 cases, he mentioned everything about his business upfront such as pricing, offers etc. So if someone finds that offer suitable, prices reasonable. Then only he will give the click or call through the ad. Hence resulting in higher conversions.
True or false: adding an extension to a text ad improves an advertiser's quality score.
To all who don't know what quality score and how it works. watch the video down below.
Answering the question. yes, it's true that adding an ad extension to your ad copy may improve advertisers quality score.
Here is how it works. Suppose there are number of advertisers competing on the same keyword. One of them is using ad extensions wisely as per campaign goals. It then increases CTR for his campaign. Hence, Google A. I find that ad copy to be more relevant to that search term, resulting in the boast of quality score, ranking up in ad copy at the top.
Google accumulate the behaviour of all the users with your ads, scrutinizes the data and then provide the advertiser's quality score accordingly.
Thanks for reading. Hope the information provided was helpful.
Subscribe to my newsletter to get free valuable content regularly.